October 3rd, 2019 by
admin
SIS Integration with Google Classroom – AVAILABLE NOW in v12.65!
SoftLINK has extended its Student Information System (SIS) integration and now provides support for Google Classroom.  Teachers are now able to connect to students' devices using Google Classroom's "ready to connect" class lists.  This provides seamless connection to the students' devices, whether they are using Windows devices or even Chromebooks.  The Google Classroom integration allows more flexibility when connecting to student devices while also helping teachers save time by simplifying the classroom setup.
SoftLINK also continues to support SIS integration via ClassLink OneRoster. Once synchronized with OneRoster, the SoftLINK Tutor can identify the SIS data (teacher, lesson, and student roster) relevant to the teacher's current lesson. Not only does this feature help teachers save time when setting up their technology-led lessons, but also offers more flexibility when connecting to student devices!
Please refer to our SoftLINK SIS Integration guide for more information.
November 2nd, 2015 by
admin
This informative video explains how SoftLINK will allow you to manage the Chromebooks in your classroom.
December 18th, 2014 by
admin
Schools and training labs across the country are adding new technology to their classrooms every year.  A survey conducted by PBS LearningMedia in 2013 listed teachers  as saying 'technology enables them to reinforce and expand on content (74%), to motivate students to learn (74%), and to respond to a variety of learning styles (73%). Seven in 10 teachers (69%) surveyed said educational technology allows them to "do much more than ever before" for their students.' With statements like that, it is no wonder that technology is present in the classroom in more ways than ever before.
One of the most sought after devices today seems to be the interactive whiteboard.  In PBS's survey, they conclude that nearly 6 in 10 teachers have access to an interactive whiteboards (59%).  However, equipping your classrooms and training labs with the latest technology is one thing; ensuring that your teachers have the proper tools to effectively support and manage students can be quite another. Enter SoftLINK, a classroom management software package that enables teachers to use their classroom technology to its fullest potential.
SoftLINK's intuitive interface features a wide array of monitoring, instructional, and assessment tools that have been fully optimized for use with an interactive whiteboard. Minimizing SoftLINK's instructor interface will allow the teacher to display their desktop on the interactive whiteboard for demonstration purposes while still providing a convenient toolbar with access to many of SoftLINK's key features.
SoftLINK offers a variety of options to view screens on the interactive whiteboard. As an example, you can select a student's screen to display on the whiteboard as well as the remainder of the classroom monitors.  You may also choose two or more student's work to display side by side on the interactive whiteboard to allow for a classroom comparison and discussion. You can even broadcast the display of the interactive whiteboard to each student's screen by selecting the Show option – giving each student a perfect view!
As a teacher, if you find that focusing your students' attention is a major concern, look no further.  SoftLINK provides a quick and easy way for teachers to gain the attention of the class by locking the students' keyboards and mice at any given time by selecting the Lock option.  Likewise, you can simply turn off the student screens by selecting Blank All directing the class's focus to the front of the class.  Now you can demonstrate on the interactive whiteboard or even lecture the class, essentially eliminating any distractions the computers may pose. Remove even more distractions during the class by limiting your students' access to certain applications and websites.  SoftLINK provides teachers with the means to easily block selected applications or internet access. While teaching at the interactive whiteboard, use the Tutor Tool Bar to select the Block All icon to block all internet access instantly!
Let's face it, class time is a valuable commodity and it is extremely limited.  When your students enter the classroom, it may take five or ten minutes for them to log in and open the appropriate program.  SoftLINK empowers teachers with the Quick Launch icon. The Quick Launch icon provides teachers with the means to launch applications or webpages on all of the student desktops simultaneously. Why wait on your students to get prepared when SoftLINK can get the class started immediately? After the applications and websites are launched, continue your class by explaining the procedure via your interactive whiteboard.
Passing out and collecting work used to be an arduous task, but SoftLINK can do the job almost instantly using its enhanced file transfer delivery. After explaining and demonstrating the task objectives on the interactive whiteboard, the teacher can send the task digitally to the students. You, as the teacher, can collect the files back at your leisure. Each file is automatically appended for easy identification with the student's name, further helping your organize your students' assignments.
It is rather unfortunate, but today teachers must be concerned with selecting students in class.  Sometimes students feel as if the teacher is singling them out or "picking" on them.  SoftLINK can alleviate this concern.  Selecting Random Student from the toolbar will cause the SoftLINK to randomly select a student so that they may answer your question or complete the required task. The result is displayed on the interactive whiteboard for the entire class to see and the subjectivity of the teacher selecting a student is no longer an issue.
We all know that some students find it hard to ask for help.  Whether they are self-conscious about asking for help or are concerned what the rest of the class might think is irrelevant.  As a teacher, you want your students to ask questions when they are uncertain of a topic, but more often than naught, students just hesitate to ask because they think it may be a "dumb" question. SoftLINK provides students a way to discreetly request for help, allowing them to ask questions with confidence, not shame.  When a student asks for help, an alert will appear on your instructor's screen or your interactive whiteboard.
SoftLINK even gives you the ability to create a Journal for each student in the classroom.  Any information that is shown on the Interactive whiteboard can be added to the Journal at any time.  Along with any content from the whiteboard, teachers can add text, screenshots, pictures, target words, and survey results.  The Journal is meant to aid students with their studies, so it also allows students to add their own individual notes to the Journal.  This gives each student a fully personalized PDF containing all of the class notes (those added by the teacher) as well as any information they personally added during the class time.
SoftLINK is a great addition to any computer-based training classroom.  You will be amazed at how SoftLINK will encourage additional collaboration in the classroom.  It will become just like your interactive whiteboard, a teaching tool you cannot live without.
November 24th, 2014 by
admin
The use of Chromebooks in the classroom has been steadily rising over the past year.  Many school districts are being lured to Chromebooks because of their relatively low cost, dependability, and access
to Google Docs and Drive.  Let's say your school district has just purchased Chromebooks for your students. Whether your district is implementing a 1:1 deployment or are using carts, has anyone considered the new distractions that the Chromebooks offer to the students in the classrooms?  SoftLINK will help you successfully manage the Chromebooks that your students are using daily.
First and foremost, teachers need to know what their students are doing at all times.  In a conventional classroom, this meant walking around the classroom or just glancing around the room during class.  Let's face it, students have and always will goof off during class. Just glancing around a classroom, you may see everyone writing on their papers, but who is to say that Bobby is not really just drawing rather than writing his story?
Now think about a Chromebook equipped classroom.  Knowing what students are doing is even more important when technology is involved.  The internet opens up a wide range of unsavory information to youth, and it is the teacher's job to prevent students from accessing this type of information during school.  SoftLINK's intuitive Tutor Console provides a thumbnail view of each student's desktop, allowing you to monitor and see at a glance what each student is currently doing on their Chromebook.
It is unfair, impractical, and impossible to believe that a teacher can watch each student 100% of the time.  Again, SoftLINK is there to help you with this task.  As with any electronic device, students are going to want to surf the web and go to the websites they enjoy the most, social media and gaming sites just to name a few.  Using SoftLINK, you can prohibit access to any website, allow access to only an approved list or websites, or block internet access completely.  Just imagine how much stress this will alleviate from your class, knowing the students cannot get to websites that you do not approve of.
How do you keep the students focused during class, especially with a Chromebook in front of them?  Besides limiting their internet access, SoftLINK give you full control over each student's Chromebook.  While giving a lecture, Lock each student's keyboard and mouse and they will no longer have any control over their device.  Better yet, broadcast your teacher's screen out to the classroom and demonstrate the assignment directly on each individual's screen rather than requiring them to look at the projector screen.  What better way to immerse a student in the activity than to place the content directly in front of them?  Upon completing your lecture, ask the entire class a question using the Survey feature.  You will get tabulated results instantly, providing you with insight on the class's overall comprehension.
Once you have completed your lecture and the students begin to work on their assignment, SoftLINK still continues to assist you.  A student can discreetly ask you for help via a chat interface.  If more guidance is required, simply take control of their keyboard and mouse to help guide them to the solution.
SoftLINK classroom monitoring software is an invaluable tool for any electronic classroom.  SoftLINK supports not only Chromebooks but Windows, OS X, Linux, Android, and iOS as well.  If your classroom has a mixture of devices, do not worry.  SoftLINK allows you to interact with each operating system and device from a single interface!  No matter what your training environment may be, SoftLINK will enhance the learning experience for the students and will provide teachers with the tools to effectively keep them on task.
November 13th, 2014 by
admin
TRADOC is one of our largest customers. General Perkins is
quoted as saying
""TRADOC is the intellectual foundation of the future of the Army. We are the ones who think through all the concepts and doctrine, and it starts with your ideas.
…
Eventually, it ends up in tanks and Bradleys, but it starts with you." Amazing as it seems, Applied Computer Systems, Inc. also has LINK Systems installed in many of the Abrams A1A2 and Bradley training classrooms.

October 17th, 2014 by
admin
Newark Catholic a private, Catholic co-educational high school has equipped its computer classrooms with SoftLINK to provide teachers with a means to effectively deliver presentations to the students and monitor students' screens.
SoftLINK gives instructors the ability to remotely monitor any or all computers in the classroom or throughout the building. SoftLINK provides remote access to the students' screens, keyboards and mice.
SoftLINK encourages classroom collaboration, progressive learning and comprehensive testing. With these intuitive features teachers will see an improvement in student retention rates and test scores.
Learn more about SoftLINK by visiting www.acs-linksystems.com
April 24th, 2014 by
admin
Take a quick look around your computer classroom.  You probably have "state-of-the-art" technology and equipment: powerful networked computers, sophisticated multimedia capabilities, and an expensive projection system.  Yet, with all this advanced equipment you still find yourself roaming the classroom to monitor trainees and clustering your students around one monitor to share an idea.  Likewise, your overhead projection system isn't making your life any easier with special room lighting, continual convergence adjustments, and complaints from the back of the room about blocked viewing and not being able to see all the fine details being projected.
You ask yourself, "Why can't I just remain at my desk and view everyone's screen??  Why can't I share any one of my student's screen with the rest of the class?  Why can't I step a trainee through a problem by remotely accessing their PC using my monitor, keyboard and mouse?  Why can't I black out trainees' monitors and freeze their keyboards and mice?
For many years, instructors just like yourself have been answering these questions by using the patented LINK Video Network System.  For these fortunate instructors, the LINK System is a dream come true – complete class control through a hardware system that is cost effective, provides years of excellent service and is extremely easy to use!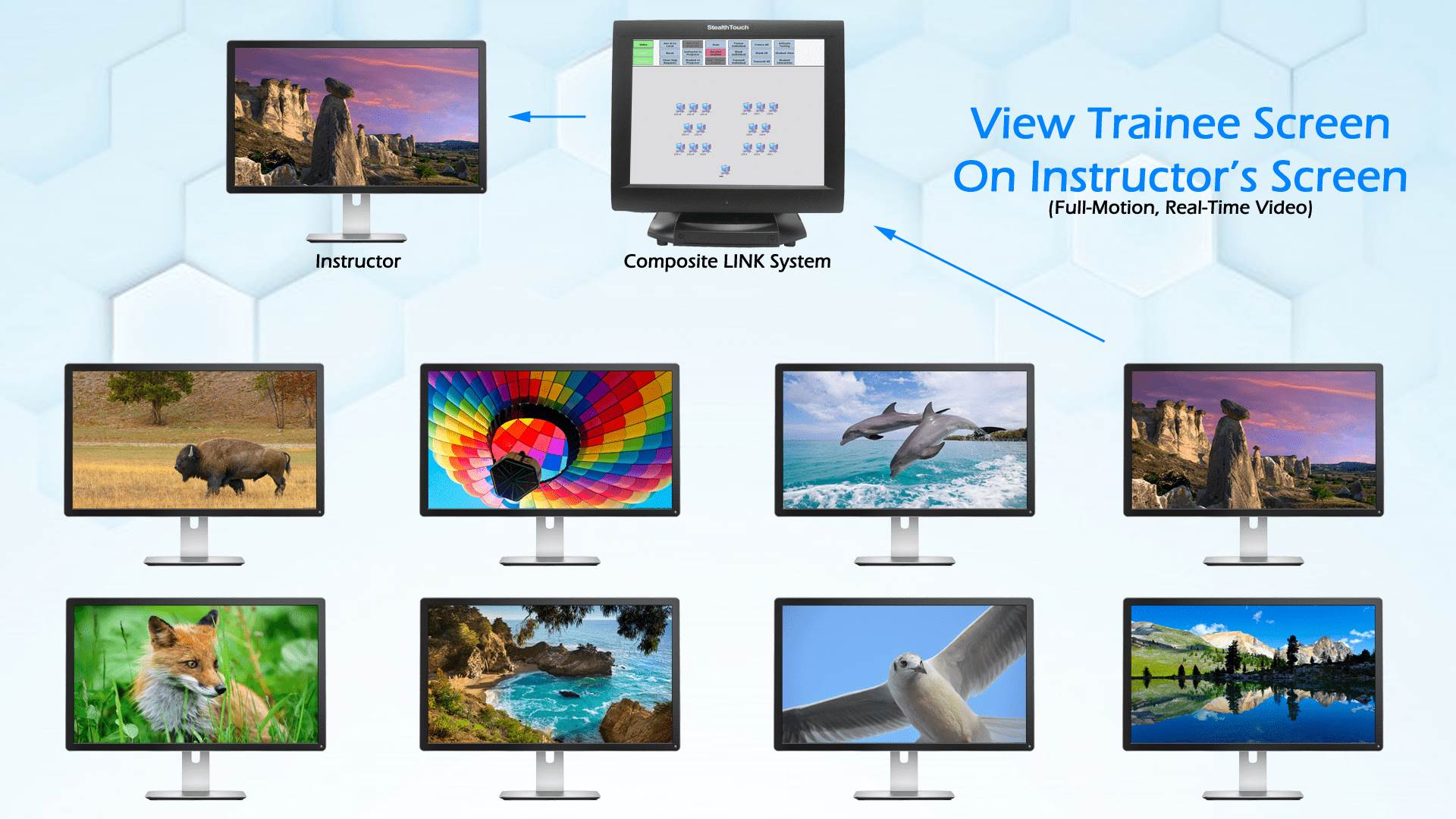 Now you can immediately interact with trainees when they need assistance.  If a specific problem occurs that is common to everyone, you can show this screen on everyone's monitor for picture perfect viewing.  If anyone requires additional assistance you can work individually or in groups, again through one-touch operation.  One-touch allows you to "Blank" the trainee monitors and "Freeze" their keyboards and mice, guaranteeing their full and undivided attention!  One-touch will connect your keyboard and mouse to any trainee computer and enable you to operate the computer without leaving your podium.  All the benefits of using a video networking system is just one-touch away!
The LINK video networking system increases your training efficiency by dramatically decreasing the amount of wasted time repeating instructions and roaming the classroom.  The LINK System improves training quality by creating a real interactive training environment.
Backed by more than 30 years of experience in the classroom video networking industry, the LINK System is the most advanced hardware system on the market.  The system will accommodate video resolutions from the lowest resolutions to graphically intensive workstations with full multimedia capabilities.
The LINK System redefines the term user-friendly.  It truly is the most user-friendly class management system, both in ease of operation and installation.  Instructors will intuitively operate the LINK System the very first time they use it.  By keeping each command a one-touch operation, and allowing you to perform any feature anytime you wish, you will be able to master the LINK System commands within a five (5) minute period.  Once you begin using the LINK System you will find it almost unbearable to imagine teaching without it!
Applied Computer Systems, Inc. is not a newcomer to the computer classroom training field.  We have been in the training and education market for over 30 years, providing quality products to schools, universities, businesses, government and military entities.  You can learn more about our classroom video networking LINK Systems by contact us at 800-237-5465 or sales@acs-linksystems.com
April 21st, 2014 by
admin
John Wright, an instructor at Bloomfield High School, was tasked with designing and building a CAD/CAM lab for Bloomfield's Technology Department.  "We were looking for a management tool to enhance instruction and to allow the monitoring of students as they work."
Mr. Wright researched software classroom management solutions first.  "We tried several network systems but found the intensive graphic requirements of the cad and 3D solid modeling software made the video response too slow."  Later, Mr. Wright was fortunate enough to see the LINK System installed in a college.  "I saw the LINK used at a local college, that was all it took.  I knew I had to have it!"  Ultimately, Mr. Wright and his colleagues found the LINK System was the best solution for their CAD/CAM lab.
The LINK System is a computer classroom management system that offers instructor's the ability to broadcast crystal clear demonstrations directly to each student's screen.  Using the LINK System's features, students are able to see all of the details of the CAD/CAM program no matter where they are seated in the classroom, contrary to classrooms that use only overhead projector.  "The ability to focus each student on their own screen during direct instruction is invaluable," says Mr. Wright.  The proverbial "bad seat" is eliminated from the classroom.  In the event that an instructor prefers to use a projector, the LINK System works flawlessly with the existing equipment.  Not only can instructors broadcast their own desktop to the projection screen, they can project any student's desktop to it as well.
When asked which of the many features that the LINK System has is most useful to him, Mr. Wright said, "The ability to take control of the student station from the teacher station is important.  If a student has a question there is no need to go to that station."  Using the LINK System's intuitive touch interface, simply select a student station and their desktop is instantly displayed on the instructor's monitor. Make an additional selection on the screen and you now have remote access to the student's keyboard and mouse.  Mr. Wright continues "if you would like to use that student's screen for helping or instructing other students you can transmit that individual student's screen to all the other student stations."  This collaborative teaching style eliminates the need to explain the same procedure to multiple students during the class period.  The LINK System will allow you to engage students more effectively, will save you instructional time, and will help to increase student comprehension.
Bloomfield Central School District purchased the most reliable classroom management system on the market.  "We have used the LINK System since 1999," says Mr. Wright.  Since that time, the school updated the motherboard in the instructor's LINK System equipment in 2004.  Incredibly, Bloomfield Central School District is still using the same LINK System equipment that was installed more than 15 years ago!  Due to the longevity of the LINK System, Applied Computer Systems, Inc. (ACS) has developed upgrade paths for customers.  Customers have the ability to use their original student equipment while upgrading their instructor's equipment.  Later, when budgets allow for it, the student equipment can be upgraded as well.
When asked about his experience with ACS's customer service, Mr. Wright expressed only praise.  "Excellent.  Their customer service is second to none!  They are prompt, and courteous.  If you call with a problem, they will do whatever it takes to solve that problem."
Applied Computer Systems, Inc. does offer free onsite demonstrations of the LINK System.  The LINK System is used in computer classrooms to effectively enhance the teaching and learning process.  It improves retention rates and keeps students on task.  It is a cost-effective computer classroom management system built to last for many years.
January 30th, 2014 by
admin
HISTORY
Ameren Corporation is among the nation's largest investor-owned utility companies and is the parent holding company of Ameren Illinois and Ameren Missouri.  Currently Ameren employs approximately 8,500 individuals and provides energy services to approximately 2.4 million electric customers and 900,000 natural gas customers.  Their service area covers nearly 64,000 square miles in Illinois and Missouri.  Ameren generates its electricity using a variety of sources including coal, gas, solar, and nuclear power.
OBSTACLE
Michele Waller is the Senior Training Supervisor for the Instructional Systems Development at Ameren's Callaway Energy Center.  Among her many tasks, she is responsible for all aspects of accreditation, administration, and initial and continuing training for her site's location.  Ms. Waller coordinates the instructor curriculum and the oversight training committee at the Callaway site as well.
"For instructional purposes, the training department at the nuclear facility wanted an alternative method of utilizing media and PowerPoint in the classroom," says Ms. Waller.  Ameren found that SoftLINK classroom management software met these goals and provided much more.  It makes sense that they came to Applied Computer Systems, Inc. (ACS) to help them solve their problem.  ACS had already been working with the Callaway site for more than a decade.  ACS originally installed a hardware LINK System at the site in 1996 which was fully functional up to the uninstall date of 2006, the year Callaway decided to migrate over to SoftLINK.  ACS has specialized in classroom management solutions since the early 1980's and has become a preferred source for hardware and software computer class management products.
Another obstacle faced was the scope of the site's training staff.  "Callaway has approximately 35 instructors who are constantly faced with providing new and creative methods of presentation."  The solution that Ameren chose needed to be intuitive and easy to learn, two of SoftLINK's key selling points.
SOFTLINK CLASSROOM MANAGEMENT SOLUTION
SoftLINK fits right in to Ameren's media rich training environment.  During the daily training sessions, instructors typically broadcast their presentation directly to the student screens.  Not only does this provide the optimum viewing experience for the students but it also prevents anyone from straying from the subject matter.  "Keeping students involved in the presentation and making sure they are at the same point as the instructor" is key states Ms. Waller.
Often enough, instructors get frustrated knowing that the students are checking their email, looking at social media sites, or playing games while they are in class.  Ms. Waller tells us that SoftLINK has eliminated those worries.  "Instructors can maintain control of student computers during presentations and ensure that students are on track."
SoftLINK also provides instructors with the ability to block any application that exists on a workstation and the ability to block any number of websites or the web entirely.  "The added benefit of controlling the access to other software or websites while in class" is invaluable.  The first and foremost goal is to keep the students on task and on the topic at hand.
In addition to the exceptional features that are found in SoftLINK, ACS also provides toll-free support for all of their products.  Whenever an instructor has a question, they can simply call or email the customer support agents at ACS and they receive precise and prompt answers.  Ms. Waller says that "ACS is very helpful when dealing with questions and issues" that may arise.
Applied Computer Systems, Inc. offers free, live, online demonstrations of SoftLINK.  A full featured 30-day trial is also available for download.  SoftLINK is used in computer classrooms to effectively enhance the teaching and learning process. It improves retention rates and keeps students on task.
January 30th, 2014 by
admin
Applied Computer Systems, Inc. has Audio Composite LINK Systems installed in dozens of classrooms at Goodfellow Air Force Base. These particular classrooms are used to train Cryptologic Linguists. A cryptologic linguist is responsible for detecting and recording foreign communications using signals equipment for the purpose of military intelligence. We are proud that the United States Air Force has chosen to use our classroom management system to help train our soldiers. Please watch the Air Force video to learn more about this unique military profession.