Take a quick look around your computer classroom.  You probably have "state-of-the-art" technology and equipment: powerful networked computers, sophisticated multimedia capabilities, and an expensive projection system.  Yet, with all this advanced equipment you still find yourself roaming the classroom to monitor trainees and clustering your students around one monitor to share an idea.  Likewise, your overhead projection system isn't making your life any easier with special room lighting, continual convergence adjustments, and complaints from the back of the room about blocked viewing and not being able to see all the fine details being projected.
You ask yourself, "Why can't I just remain at my desk and view everyone's screen??  Why can't I share any one of my student's screen with the rest of the class?  Why can't I step a trainee through a problem by remotely accessing their PC using my monitor, keyboard and mouse?  Why can't I black out trainees' monitors and freeze their keyboards and mice?
For many years, instructors just like yourself have been answering these questions by using the patented LINK Video Network System.  For these fortunate instructors, the LINK System is a dream come true – complete class control through a hardware system that is cost effective, provides years of excellent service and is extremely easy to use!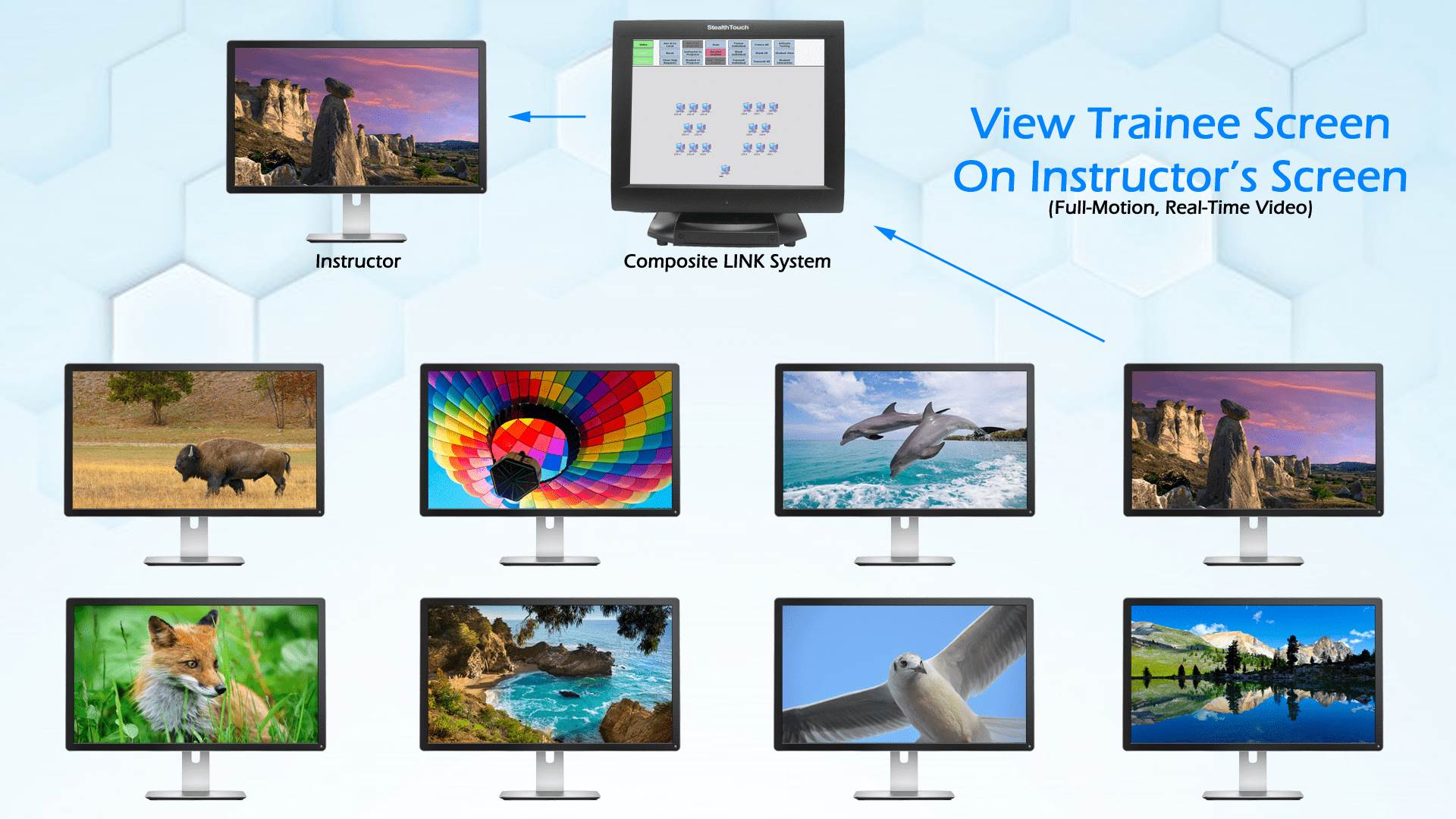 Now you can immediately interact with trainees when they need assistance.  If a specific problem occurs that is common to everyone, you can show this screen on everyone's monitor for picture perfect viewing.  If anyone requires additional assistance you can work individually or in groups, again through one-touch operation.  One-touch allows you to "Blank" the trainee monitors and "Freeze" their keyboards and mice, guaranteeing their full and undivided attention!  One-touch will connect your keyboard and mouse to any trainee computer and enable you to operate the computer without leaving your podium.  All the benefits of using a video networking system is just one-touch away!
The LINK video networking system increases your training efficiency by dramatically decreasing the amount of wasted time repeating instructions and roaming the classroom.  The LINK System improves training quality by creating a real interactive training environment.
Backed by more than 30 years of experience in the classroom video networking industry, the LINK System is the most advanced hardware system on the market.  The system will accommodate video resolutions from the lowest resolutions to graphically intensive workstations with full multimedia capabilities.
The LINK System redefines the term user-friendly.  It truly is the most user-friendly class management system, both in ease of operation and installation.  Instructors will intuitively operate the LINK System the very first time they use it.  By keeping each command a one-touch operation, and allowing you to perform any feature anytime you wish, you will be able to master the LINK System commands within a five (5) minute period.  Once you begin using the LINK System you will find it almost unbearable to imagine teaching without it!
Applied Computer Systems, Inc. is not a newcomer to the computer classroom training field.  We have been in the training and education market for over 30 years, providing quality products to schools, universities, businesses, government and military entities.  You can learn more about our classroom video networking LINK Systems by contact us at 800-237-5465 or sales@acs-linksystems.com